Cleanroom Apparel
Cleanroom Apparel
What is cleanroom apparel?
Cleanroom apparel is clothing made to be safe for wearing in critical environments. The class of your cleanroom facility determines which fabric material is right for you. Wearing cleanroom apparel not up to the standards of your environment may introduce foreign particles and shed materials that compromises your critical environment. Tyvek, SMS, and microporous are common material types of cleanroom apparel. Read more about ISO standards for cleanroom classes in ISO 14644-1:2015, which specifies the classification of air cleanliness in terms of concentration of airborne particles in cleanrooms and clean zones.
What do you wear for a cleanroom?
There are 10 cleanroom class ratings that affect which garment is necessary. A full cleanroom suit, otherwise known as a bunny suit or a cleanroom coverall, is an overall garment. The full gowning of such a suit can be an involved process and removal may require the help of another operator.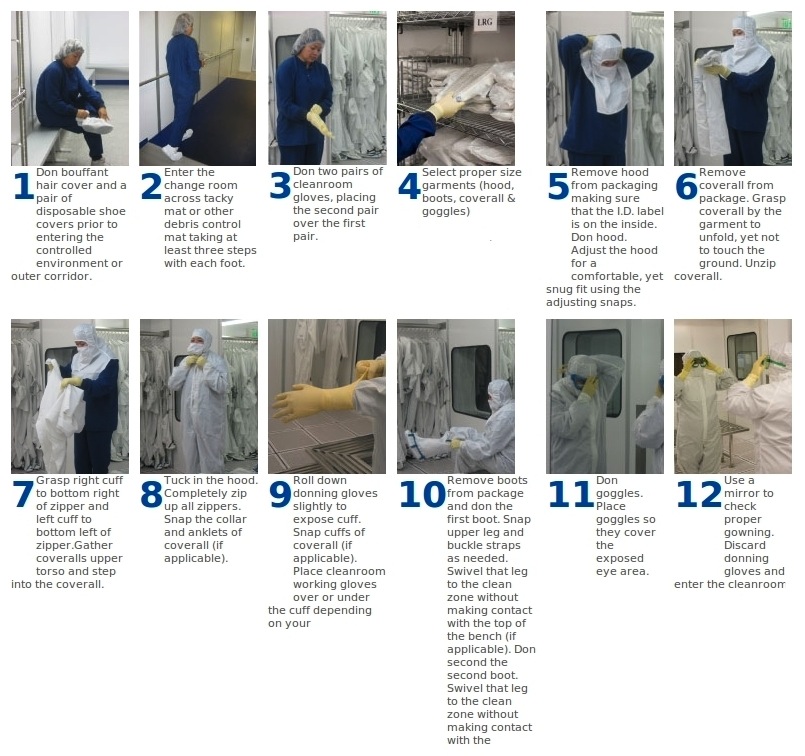 (Image Source: By Dorothyboyd - http://laundrycleaning.wetpaint.com/page/Gowning, CC BY-SA 3.0, https://commons.wikimedia.org/w/index.php?curid=11426108)
As you can see, additional cleanroom garments may be required prior to donning a cleanroom suit. The following lists many of the most common cleanroom garments:
Arm sleeves
Beard covers
Boot covers
Bouffant caps
Coveralls
Goggles
Glove liners
Face masks
Frocks
Hoods
Intersuits
Nitrile gloves
Scrubs
Shoe covers
Shoes
Socks
Gowning furniture and dispensers assist in keeping your critical environment organized and may be essential to assist operators don their garments.